System ID Barcode Solutions
5 Secrets to Extend the Life of Your Barcode Label Printer
In this do-more-with-less world, it's important to protect your hardware investments so they last as long as you need them to. This holds true for your thermal label printer, which is used in conjunction with a barcode system to improve productivity when managing inventory or tracking assets in multiple environments, including warehouses, manufacturing plants, retail stores, healthcare facilities, and government agencies.
Thermal printers tend to have a higher initial cost, but they have a lower total cost of ownership due to their lower maintenance costs. "Lower long-term maintenance costs can quickly offset the higher initial investment," Zebra Technologies explains.
[caption id="attachment_6270" align="alignright" width="300"]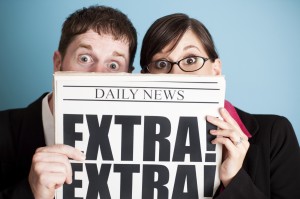 Protect your investment and lower your total cost of ownership by extending the life of your label printer. How? One secret is to regularly clean it! Learn more from System ID.[/caption]
As a Zebra Authorized Service Provider (ZASP), System ID has gained extensive experience repairing and servicing Zebra printers and those of other major brands. In this article, our most experienced System ID repair technician reveals top tips for extending the life of your barcode label printer while also lowering maintenance expenses and total cost of ownership.
1.  Regularly clean your printer
While this advice seems obvious, many companies don't take the time to clean their label printers. They are either too busy or don't want to "mess with it." Regardless of the reason, cleaning your barcode printer should be as routine as brushing your teeth—and is just as important.
To keep your printer running at its best, we suggest you clean the print head and platen roller every time you put in a new ribbon, or if you are printing in direct thermal mode, clean them after changing two rolls of labels. If your thermal printer is used in an especially dirty industrial environment, manufacturers such as Datamax-O'Neil recommend cleaning the print head every day. Keep a cleaning kit or swab nearby to simplify the job.
In addition, you want to keep dust and paper fibers away from the print sensors. These particles can damage or block the sensors, which will cause them to stop working. To keep the inevitable dust or fibers away, simply blow on the sensors or wipe them using a small, clean paint brush.
2. Do not throw away the silver plate
Companies often incorrectly believe the silver plate that sits under the print head is part of the packing materials. Therefore, they toss it when taking printers out of their boxes.
This part is actually essential to the functioning of thermal transfer printers because it steadies the barcode labels when printing. As such, it has an angled spot that is designed to give proper reflection for the ribbon sensor. If you remove the silver plate, you will receive false "paper out" and "ribbon out" error messages.
Remember—manufacturers do not add spare parts or packaging to their printers. So, if you don't want to get stuck with a new, nonfunctioning barcode printer, don't throw anything away that's not obvious—including the silver plate.
3. Protect your print heads
What's the most important part of thermal printers? According to Honeywell Intermec, it is print heads, for which some have "a warranty to perform for 1 million inches, which is more than 15 miles of output." That's why it's critical to take care of your these key components.
In direct thermal printers, they generate heat, which prints images directly onto heat-sensitive labels and tags without requiring ribbons, toner, and ink. Thermal transfer printers also use print heads to generate heat that transfers ink onto labels by melting the wax or resin on the ribbon. Learn more about direct thermal and thermal transfer printers.
Print heads are expensive to replace, often costing hundreds of dollars. Therefore, it's important to protect them whenever possible by trying these money-saving tips.
Do not change darkness settings. Print heads are preset to print correctly when you purchase them. Therefore, it isn't necessary, nor recommended, to change the darkness settings on your printers. If you do, you will shorten the life of the print head, and you'll decrease the quality of printed labels. If for some reason you must make an adjustment, do not change the darkness level from the print head. Instead, change settings using the printer menu or driver.
Use the right media. As Zebra reminds us, it's essential to use the right barcode label and ribbon to ensure minimal replacements. "For optimum printer performance, it is important to choose the right media (or the right media and ribbon combination in the case of thermal transfer printing). Choosing the wrong media can result in poor print quality, printer malfunction, and/or frequent print head replacements."
Take advantage of replacement programs. When replacing print heads, check with System ID to see whether the printer manufacturer offers a replacement program. Some, such as Zebra, will replace print heads for free if you exclusively use Zebra media for the life of the printer.
Only use replacement parts and print heads that adhere to manufacturers' specifications. Generic or third-party print heads are available for most popular label printers.  There are initial cost savings when purchasing a third-party print head but it could be causing long-term damage to the printer. Again, if heat settings on the printer need to be adjusted once a generic print head is installed, it could not only shorten the life of the barcode printer but also terminate the manufacturer's warranty.
4. Keep the media guides close to the edge of the labels
Every label printer has media guides to prevent costly misprints or jams. If the guides are too loose, the labels will move from side-to-side, and you'll experience errors that could cause delays, downtime, or unnecessary expenses due to wasted labels.
For smooth, uninterrupted printing that won't blow your budget or production schedule, position your barcode labels as close as possible to the edge of the printer's media guides. The ideal distance is 1/16 of an inch.
5. Do not use sharp objects to remove labels from the platen roller or ribbons from the spindle
If you want your barcode label printers to routinely move in-and-out of repair shops, go ahead and stick sharp objects inside them every time you need to remove labels from the roller or barcode ribbons from the spindle. When you do, be sure to accidentally cut the rubber on the platen roller so it has holes or splits in it. Doing so ensures your barcode labels won't print properly.
Seriously, if you have trouble removing labels from their spindles, we suggest cutting the glue off of a new roll of ribbon before you start to print. Simply remove the glue, and then wrap the ribbon around the spindle three or four times to secure it. This enables the ribbon to easily slide off the spindle when depleted.
Experience speaks for itself. Trust our top technician and follow his advice for extending the life of your barcode label printer. Not only will you protect your investment, you'll also save some bucks by minimizing repair expenses and the total cost of ownership.
Want to learn more? Check out our Barcode Printing Guide or phone a System ID advisor at 888.648.4452. Whether you are a barcode novice or an advanced, high-volume user, we have printing solutions to fit your specific needs.