System ID Barcode Solutions
Automating Inventory Control Systems Critical to Future Warehouse Performance
In its recent report, "From Cost Center to Growth Center: Warehousing 2018," Motorola Solutions outlines today's realities and tomorrow's visions for warehouse operations. The company arrived at its conclusions after interviewing warehouse IT and operational personnel in the
manufacturing
,
retail
, wholesale, and third-party
logistics
segments. Among their findings were forecasts for warehouse storage and
inventory control systems
.
Pen and paper prevails
Interviewers discovered that 41 percent of facilities are still using pen-and-paper systems for cycle counts. As a result, companies are experiencing:
Inconsistent inventory processing due to availability of staff
A partial—and sometimes total—disruption of operations
Data-entry and transcription errors
In addition, 32 percent of companies lack real-time access to data in their warehouse management system, which contributes to:
Inaccurate warehouse management systems
Inflated numbers
Incorrect inventory counts
These operational inefficiencies are negatively impacting warehouse performance by:
Causing costly downtime
Increasing out-of-stock conditions
Unnecessarily accumulating held inventory
Upsetting customers
Making it difficult to comply with regulations
Technology to transform inventory management
[caption id="attachment_5318" align="alignright" width="150"]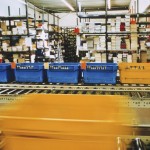 In five years, companies will shift from manual to automated inventory control systems for better inventory visibility, increased efficiency, and fewer out-of-stocks.[/caption] Motorola Solutions predicts that in five years companies will shift from manual to automated inventory control systems that will:
Enable more frequent cycle counts that require less effort and disruption
Increase inventory visibility
Ensure accurate fulfillment, fewer out-of-stock situations, and a decline in lost sales
In fact, after interviewing study participants, they believe that in 2018:
Only 12 percent of warehouses will still be using manual cycle counts
65 percent will have real-time access to their warehouse management systems from mobile devices
With these advancements, companies will grow their confidence in inventory accuracy and shift their focus to optimizing their mixes, expanding selections, and accelerating inventory turns. In other words, automation technologies for data capture will become critical components for increasing top- and bottom-line performance. Gone will be the days of clipboards and calculators. In their place will be adaptive, platform-based solutions that are modular and flexible. Think easy-to-use industrial browsers on large tablets that are mounted on vehicles and powerful
mobile computers
that consistently drive performance in both cold and dry storage conditions.
Don't be left behind
Are you currently using a manual system for cycle counts? If so, it's time to prepare for the future. Contact
System ID
at 1.800.397.9783 to see how easy it is to automate your inventory control system.