System ID Barcode Solutions
How Are Consumerization and BYOD Changing Businesses?
Consumerization and BYOD have been widely discussed thanks to the prevalent adoption of mobile applications, devices, and workforces, which make it easier for customers to do business with companies. Yet, organizations still struggle with security, device management, and infrastructure issues spurred by the convergence of personal and professional technologies.
Tablets trigger changes
When workforce mobility moved in, so did employee (and customer) expectations. No longer satisfied with legacy servers that are slow, policies that prevent quick access to needed applications, and the inability to easily interact with customers, workers took matters into their own hands. Today's employees are bringing their own devices (BYOD) to work to circumvent IT roadblocks, more efficiently serve customers, and easily connect to online apps and services that improve their productivity and accessibility.
Gartner
believes the influx of tablets, in particular, is changing how businesses operate. "The introduction of the iPad triggered a revolution in the tablet marketplace. The impact of the smartphone has long been felt, but along with the effect of tablet devices in the workplace, the push is on for better mobility tools. IT still has the responsibility to protect organizational intellectual property and is struggling with BYOD programs and mobile device management. In addition, IT has a responsibility to improve employee productivity through technological advances." [caption id="attachment_6085" align="alignleft" width="300"]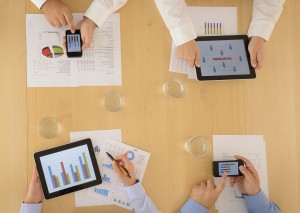 Security, device management, and infrastructure issues are forcing BYOD policies as the mobile workforce continues to climb.[/caption]
Employee devices gain popularity
Workforce mobility is driven by the need for instant access to any information, at any time, from any location, using any device. Enterprise
mobile computers
fill this demand by allowing the immediate sharing and editing of data when connected to wireless networks. But not every company invests in mobile computers. Instead, they rely on employee devices to fill the void left behind by outdated servers, networks, and bandwidth capabilities. Of those companies that do use
mobile computers
, several opt to supplement their use with team members' tablets, laptops, and phones. Surveys by
Tech Pro Research
support this claim. In 2013, researchers found that 44 percent of respondents already allowed BYOD and another 18 percent were planning to do so in the next 12 months. When revisiting the topic in late 2014, Tech Pro discovered that "nearly three quarters of respondent companies permit or plan to permit BYOD," which is "in greater use among small organizations compared to larger businesses." They also learned that the IT, technology, and education industries are the most likely to permit BYOD, while "government is most likely to prohibit it."
BYOD forces new policies
As the data suggests, BYOD is here to stay. And with it comes challenges for technical professionals tasked with ensuring business continuity, promoting collaboration, and facilitating teleworking across multiple platforms. To achieve success, Gartner says companies must identify mobile device management (MDM) policies while also shoring up their infrastructures and security. Failure to do so—especially in fields where customer service is a primary objective—will severely impact their ability to thrive. It will also prove difficult for companies to attract employees under the age of 35, who—according to
Bersin & Associates
—totaled 47 percent of the U.S. workforce in 2014.
Investments protect assets …and employees
Consider this scenario. As a field sales engineer, Jane uses her personal tablet on the road. As a result, the device contains confidential company information such as contracts, reports, and other important documents. One day Jane inadvertently leaves her tablet on an airplane after arriving at her destination. She tries to find it without success. Knowing the company information stored on her tablet presents a security risk, she notifies IT of the loss. In response, IT remotely wipes the device clean, which also deletes Jane's personal photos, contacts, and files. If IT had originally partitioned Jane's tablet so she logged into a secure area to conduct business, Jane could have avoided the loss of her professional and personal information. And, the company could have averted the potential security risk. This is only one of many examples where having defined mobile device management policies benefit both businesses and employees. Of course for this scenario to succeed, Jane's company would have already:
Updated its wireless LAN (WLAN) by improving spectrum, IP (Internet protocol) address, and bandwidth management
Put support staff in place to handle iOS, Android, and other operating systems (OSs) issues
Developed corporate Web applications based on HTML5, local applications, or virtual desktop requirements
Identified cost management policies such as stipends that reduce employee out-of-pocket expenses while also adhering to tax regulations
Are you facing similar challenges stepping into the wonderful world of mobility? Do you need assistance updating your infrastructure and devices? System ID can help. Phone us at 888.648.4452 or
visit us online
. And while you're at it, follow us on
LinkedIn
,
Twitter
, and
Google+
. Then you won't miss any news about technologies that are changing the way businesses operate.