System ID Barcode Solutions
How Important Inventory and Asset Management Are To Your Supply Chain
In the competitive world of business, companies are beginning to realize how crucial supply chain management is to maintaining a competitive advantage, along with attaining total transparency and peace-of-mind.
Supply chain management is based around the understanding that so many processes are involved in delivering a product to a customer, mainly involving the
flow of both physical items and information
between different parties, from sources to production to logistics.
And what systems are most important to maintaining physical and information flow? Inventory management and asset management.
Whether you're a small business with just a e-commerce arm, a medium-sized firm engaged in a
"bricks-and-clicks" model
, or a third-party company that services the supply chain of other businesses, you should understand just how important these systems are to overall success.
What is inventory management?
Inventory, in this context, is a company's total collection of goods and products in stock. To track and manage inventory is to follow its lifecycle from product development, to production, to transportation to a warehouse, to delivery to the front door of a customer or the store shelf. [Tweet "Inventory, in this context, is a company's total collection of goods and products in stock."] As any retail business owner knows, inventory management is hugely important even in regards to day-to-day operations. Items are constantly being picked off the shelf and need to be replaced immediately, and new shipments are always arriving to replenish the overall inventory. For e-commerce businesses, the same pattern is being repeated in warehouses around the country. Increasingly, no matter what style of business they run, business owners understand that they need to expand their understanding of how their inventory is managed outside the "four walls" of their business. This wasn't always the case, and the result was ineffective and unnecessarily costly supply chains, for a few reasons:
Businesses were unable to identify points of friction along their supply chains

—disingenuous or poor-performing partners, unnecessary added steps, outdated models or technology—that slowed down replenishment.

A lack of supply chain transparency

that led to questionable

sourcing practices

that could lead to public relations nightmares, inefficiencies, and ethical dilemmas.

Poor planning for future trends

due to the inability to mine the "Big Data" of past sales history, resulting in terrible inventory turnover ratios, stockouts, and losses due to obsolescence.
Today, businesses of all sizes are using a combination of technologies, most notably barcodes and RFID, to gain real-time insights into their inventory management system. This emphasis on automation, cloud computing, and location tracking is heralding a new era of inventory management effectiveness.
What is asset management?
In this context, assets refer to fixed assets, which are the long-term pieces of property that businesses use to create their profits. Assets are not sold quickly like inventory—they are invested in, managed, and eventually phased out in favor of newer investments. Examples of fixed assets include computers, vehicles, heavy warehouse machinery like forklifts and robots, and tools like smartphones, barcode scanners, and wearables such as smart watches.

Assets need to be managed over the course of their useful life, for a few reasons. One reason is that they are integral to everyday processes and need to always be in working order. If a machine that has badly needed maintenance breaks down, it could grind productivity to a halt. Just as bad are ghost assets
, which appear on the company ledger but are nowhere to be found in real life. Imagine expecting to have a laptop ready to bring with you to an offsite project only to find nothing waiting for you, with no understanding of who had it last and when.
Companies are now looking to automate this process as well. Businesses are increasingly instituting smart tag systems that hold a wealth of information about their assets, which can be updated and monitored in real-time. Even GPS systems are finding a home in asset management systems that want to track exact locations of things like mobile storage units and vehicles.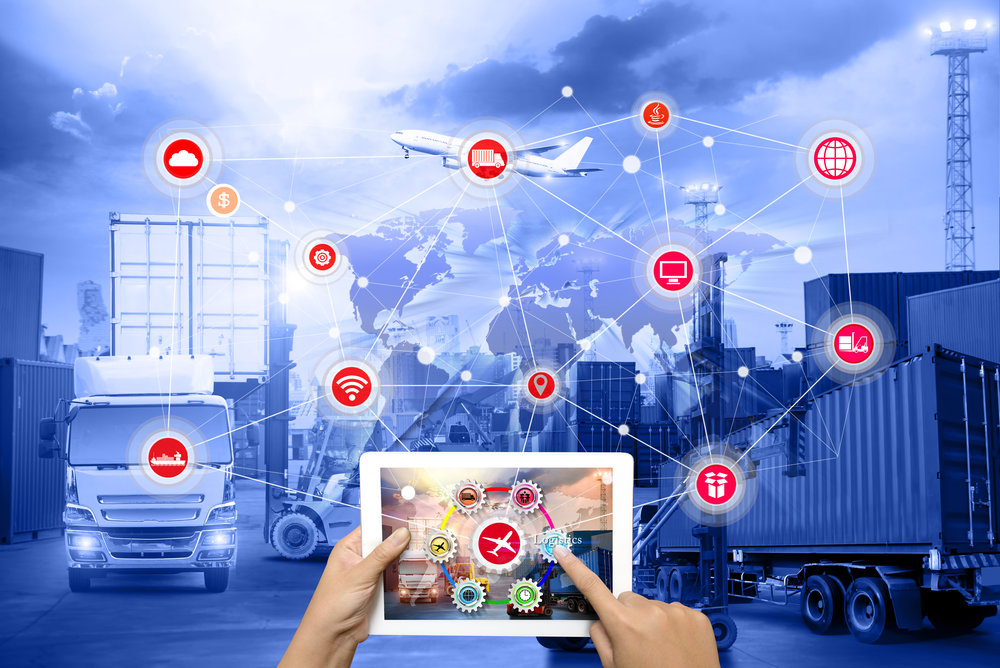 How supply chain management incorporates the two
As mentioned above, supply chain management is all about flow.
Physical flows

in a supply chain involve the movement and storage of all the goods and materials used in creating inventory. The truck that transports a customer's order from a warehouse to their front door is an integral part of the physical flow.

Information flows

are just as important: They are the webs that keep all parties involved in the supply chain informed of the short- and long-term plans for your inventory. Increasingly, this information can be updated with the scan of a barcode, or when an item passes through a particular point in the warehouse.
The physical flow of
the supply chain can break down
at any moment if there is a lack of oversight of either inventory or fixed assets.
If a customer orders an item that isn't actually in stock due to a manual error made at the warehouse or in-store, the business will lose a sale and likely future sales from that person. [su_divider top="no" size="2"]
[su_divider top="no" size="2"] If production needs to ramp up in expectation of a holiday rush and crucial machinery breaks down, the supply chain will halt entirely and time and resources will need to be spent on repairs. Similarly, information flow breakdowns can be extremely damaging to a brand's reputation and bottom line. A business can provide stellar customer service only if they know the location and status of that customer's package. The inability to pull up that information at a moment's notice—say, in case of a late or missing delivery—should not be a continuing problem in 2018. Supply chain management relies on systems that track inventory and assets to complete its picture of how your goods are moving from A to Z. The supply chain is, quite literally, nothing without the information these systems provide.
How your business can boost your management processes
If this article has you questioning your current practices and processes, consider this one important maxim: At this point, your inventory and asset management systems should be automated. Period.
More businesses than ever
are learning that fact.
Manual processes like using a pen and paper or simply guessing won't be enough in a world dominated by big players like Amazon and Wal-Mart.
Invest in tools that automate important steps like reordering, balancing turnover ratio, and even
communicating with customers via online chatbots
. Barcode-based systems are particularly flexible,
popular
, and relatively inexpensive considering their power.
From there, you'll see way more deeply and clearly into your supply chain, and be able to make important changes and cut inefficiencies where necessary. Inventory and asset management are crucial to the survival of businesses in the 21st century. Give your supply chain the backbone it needs and you'll see the dividends almost immediately.