System ID Barcode Solutions
Jumbo-Sized Labels No Problem for Zebra 220xi4 Industrial Label Printer
The
Zebra 220xi4
industrial label printer creates king-sized labels for rugged, tough environments. Designed to stand up to the most demanding applications, this thermal transfer printer can quickly output wide labels for applications such as chemical drums, banners, shipping pallets/containers, and more. [caption id="attachment_4533" align="alignright" width="150"]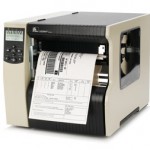 The Zebra 220xi4 industrial label printer features an all-metal casing that is built to last.[/caption] "As a mainstay in Zebra's product portfolio, the Xi Series printers are known for their reliability in even the most rigorous environments," said Ed Migut, senior product manager for Zebra Technologies. "Because manufacturing is at the core of Zebra's own business, it was vital for the company to bring new levels of print speed and performance to the market that should drive even greater efficiency to this sector."
Strong and steady
The Zebra 220xi4 industrial label printer features an all-metal casing that is built to last. Rugged durability ensures these stationary printers will stand up to the harshest conditions with a design that includes:
Heavy-gauge steel housing and metal interior components to resist bangs and bumps
Enclosed operating mechanisms that block out dust and dirt
The ability to operate trouble-free in a wide range of temperatures and humidity ranges
Designed with a balance of performance and functionality, the Zebra 220xi4 industrial label printer is optimized for high-volume operations. It offers enough memory and processing power to provide quick print speeds, deliver high print quality, and support integration into network management and ERP systems. Features include:
Thermal transfer or direct thermal printing
Speedy performance via a 32-bit 133 Mhz RISC processor
Powerful memory (8 MB Flash memory, including 2.0 MB user-available non-volatile memory storage for downloadable objects) that stores more label formats, fonts, and graphics
Large, easy-to-use LCD content and navigation screen customizable to user needs
Faster print speeds, which improve batch and print-and-apply productivity
Flexible connectivity including simultaneous parallel/Ethernet
Advanced ribbon- and media-low LCD and e-mail alerts
Durable metal print head mechanism that delivers high print quality over the long run, reducing or eliminating downtime and costs for print head replacement
On-board diagnostic tools and adjustments for optimum print quality, including detection of print head problems for faster problem notification
Simple setup
Unlike many other competitors, the Zebra 220xi4 industrial label printer offers quick setup and integration. It features an internal ZebraNet 10/100 Printer Server and secure 802.11b/g wireless connectivity. Thanks to the wireless option, you can set up the Zebra 220xi4  almost anywhere and easily move it to new locations. In addition, auto-configure features and simple wizards quickly guide new users through the set-up process.