System ID Barcode Solutions
RFID Retail Inventory Management Increases Omnichannel Sales at Macy's
RFID has long been touted as the answer to super-efficient supply chains. But RFID retail
inventory management
is seeing renewed growth. According to
a report by Mary Catherine O'Connor with CNN Money
, RFID solutions just might be the savior for Walmart, Macy's, and other brick-and-mortar retailers looking to expand omnichannel sales.
Supply chains didn't deliver results to Walmart
You may know the Walmart RFID story: In 2003,
Walmart
emphatically declared that by 2006, the company's top 100 retail suppliers would be required to apply
RFID tags
to pallets and cases of goods sent to its distribution centers. It was believed that by doing so, they could build the world's most efficient supply chain. [caption id="attachment_4729" align="alignright" width="300"]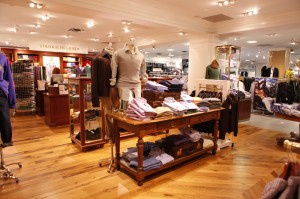 While Walmart didn't realize any significant supply chain benefits from RFID, Macy's is seeing ample gains in inventory accuracy with RFID retail inventory management systems.[/caption] The vision was that every product would land at the right place at the right time. After all, RFID technology enables quick identification of individual items, cases, or pallets as they pass by readers that use radio frequencies to send and receive signals from RFID tags, which are outfitted with microchips and antennas. Promises of optimal productivity across the supply chain seemed to justify the investment in this growing technology. Walmart didn't realize the results they desired. High costs of implementing RFID systems slowed suppliers' adoption, which didn't surprise Bill Hardgrave, dean of Auburn University's College of Business and founder of the
University of Arkansas' RFID Research Center
. Mr. Hardgrave offered his views in an interview with Ms. O'Connor. "When we look back, it almost seems silly that we started it [RFID] as a supply chain tool," he remarked. "If you think about the way many manufacturing centers and distribution centers operate, for many retailers those were already Six Sigma. How much more efficiency or accuracy can you squeeze out of that? Well, by definition of Six Sigma, there's no much left to squeeze out."
But retailers did discover gains in omnichannel sales
While on the path to supply chain supremacy, retailers like Walmart and
Macy's
stumbled upon other uses of RFID technology. For one, it helps retailers compete with online sellers via "omnichannel" sales, which Ms. O'Connor describes as "closing a sale on the buyer's terms, whether in the store, on the Web, using social media, or through some combination of those channels." According to a report by market research firm Monetate, which was referenced in
the CNN Money article
, "One in five online purchases were made on a mobile device in 2012. That jumped nearly 50 percent, to one in three, in 2013. Knowing its customers will stand inside a Macy's store and comparison shop, the company is making sure that what its website says is in the store is actually in the store."
Macy's significantly improves inventory accuracy
In 2009, Macy's piloted RFID technology by implementing an RFID infrastructure and placing tags on virtually everything in their Bloomingdale SoHo location. They started doing cycle counts by walking around the sales floor with a handheld RFID reader and scanning tags on entire racks of clothing. Associates could instantly see which styles and sizes needed replenishing so customers always had access to popular products. Even barcodes can't compete with these results. Ms. O'Connor quotes Bill Connell, Macy's senior VP of logistics and operations, as saying, "You can count [inventory] once or twice a year with bar codes with limited accuracy because the person can be distracted or scan the same code twice. We can count up to 24 times a year using RFID. It just enables us to keep inventory accuracy in the high 90s [in terms of percentage]." According to Ms. O'Connor, the pilot was a success. Macy's is installing RFID infrastructure in all of its 850 stores, and by the end of the summer, it will require at least half of its vendors to apply RFID tags to their merchandise. Doing so will enable the retail giant to increase profits and better serve its customers—regardless where they shop.