System ID Barcode Solutions
4 Reasons Spreadsheets are Killing Your Inventory

Excel spreadsheets might be one of the most popular applications available, but it's also one of the most costly and destructive tools used in business. One case in point is Johnson Financial, a company that found itself
wasting hundreds of hours
every year tracking down the thousands of IT equipment it rents to clients. After a lot of frustration and lost time and money, the company ultimately adopted an asset tracking system in 2008 that saved an estimated $8,000 per year looking for missing or misplaced assets. That's a lot of money for a small business. Johnson Financial's story is a frustrating — and common — one for business owners, but the company's loss was nowhere near the extent of
JPMorgan Chase's "London Whale" incident
where the bank lost $6 billion in 2012, in part as the result of errors made in Microsoft Excel spreadsheets. That's definitely enough money to make business owners stop and think about their own systems for a few minutes. There are other instances of costly Excel errors, such as the time a
formatting mistake
by a Barclay's associate added 179 unwanted contracts to a Lehman Brothers bankruptcy buyout deal. Instead of deleting the spreadsheet cells, the first-year law associate accidentally hid them.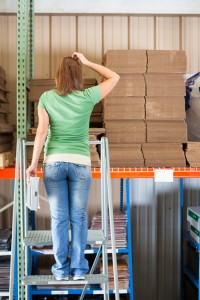 The lesson here is simple:
Errors made in Excel
are unavoidable. In fact,
multiple studies
have reported that nearly 90 percent of all spreadsheets have "significant" errors in them. No matter how careful one can be, spreadsheets contain at least 1 percent of errors in all formula cells, one study finds. Excel errors are such a huge problem that researchers at
Dartmouth conducted an in-depth study
specifically "designed to deepen [their] understanding of spreadsheet errors." This is exactly the reason why Tim Worstall at
Forbes
calls
Excel "the most dangerous software on the planet." Why would you risk the future of your business on a system that cannot prevent errors? When you are small and starting out, miscalculations may only have minor losses on the balance sheet, but as your business grow, those costs multiply. As a smart business owner, do you want to take that risk, losing money, clients, and even your reputation? To further the story, below are 4 reasons spreadsheets are a nightmare to manage.
1. You're wasting a lot of valuable time
All small business owners know that time is crucial when it comes to managing and growing your company. The faster you can figure out how to most efficiently utilize your employees, the faster you will achieve a competitive advantage. After all, the last thing you want to do is pay employees to do mindless tasks when their efforts could be put to more strategic initiatives. According to Jemima Spare, IT Support Officer for The University of Oxford's telecommunications department, before adopting a
proper systems management solution
, each person on the team was wasting two to four hours every week tracking equipment taken from the stockroom. Now anyone can instantly look at the database to see what's available, where it's located, and what needs to be ordered.
2. There's no way you can track everything accurately
As the examples above prove, there's no way anyone can avoid data entry errors because there's just no way humans can be perfect. This is especially true if you're dealing with multiple spreadsheet cells that eventually all blend together. Even the most careful eye won't catch every mistake. At Excell Data, employees are provided IT assets like computers, monitors, and printers to use on the job. At one time, spreadsheets were being used to record serial number, location, and the responsible party for every piece of equipment loaned out. When a new batch of inventory arrived, it took the team hours to manually input all the relevant information. [su_divider top="no" size="2"]
"Mistakes were made when data was manually entered into the spreadsheet,"
[su_divider top="no" size="2"] "Mistakes were made when data was manually entered into the spreadsheet," Maurice Fuller, Executive Director of Operations for Excell, said in a Wasp Barcode Technologies case study. "Serial numbers can be difficult to read and record. Was it the number 0 or the letter O? Was it a lower-case l or a capital I? We were spending too much time on a spreadsheet that wasn't working for us.
3. There's too much reliance on one person
Even if multiple people have access to the Excel workbook, only one person can edit the workbook at a time. This is a waste of time if multiple people are working with inventory. If this individual leaves the company abruptly, your system is at risk, especially if no one else is familiar with the last changes and modifications made.
4. There's no way to track real-time data
The ability to forecast
inventory in real-time
is crucial when it comes to meeting customers' demands. However, when using spreadsheets, there's a good probability your system is out of sync with your actual inventory count because every piece of data relies on manual input. If you don't update constantly, your records won't accurately reflect what you actually have in storage. This can be a big problem when you are deciding on inventory purchases with the information you have on hand. If you don't have enough inventory, your business suffers. If you have too much inventory, your money is wasted and you won't have the mistakenly used funds readily available to invest elsewhere. "We never had a true handle on inventory and keeping the sites running at full capacity was stressful," inventory analyst Bryan Harej recalls about trying to manage TopGolf's large inventory across multiple locations. [su_divider top="no" size="2"]
[su_divider top="no" size="2"] At the end of the day, the cost-effectiveness and convenience of using Excel will end up costing you more money than investing in an
asset tracking management solution
. After all, poor inventory management is one of the
major reasons
small businesses fail. Why would you put your company at risk when there is a more efficient way of running things? Running a small business is already hard enough; don't limit yourself by placing more obstacles in the way.
Think your business might benefit from implementing an automated fixed asset system?  Click here to schedule a live, one-on-one demo today.