System ID Barcode Solutions
Thermal Transfer vs Direct Thermal Printing: Which is Best?
The battle of thermal transfer vs direct thermal printing is most often won by answering a simple question: Do you require long-lasting barcodes to identify products and tag assets, or do you need to print items with shorter shelf lives, such as shipping labels, receipts, or tickets? Most organizations with dedicated
barcode systems
use either thermal transfer or direct thermal printing to produce labels for tracking and identifying people, products, and locations. But sometimes they pick the wrong technology simply because they aren't aware of their differences. By learning more about thermal transfer vs direct thermal printing, companies won't waste time and money on
labels
and
barcode printers
that won't work.
What is thermal transfer printing?
Thermal transfer printing use a heated print head and a thin ribbon to create high-quality, long-lasting barcode labels. [caption id="attachment_4738" align="alignright" width="150"]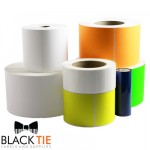 Black Tie makes high-quality, yet affordable, thermal transfer and direct thermal labels. Zebra is also a popular brand.[/caption] The ribbons have a wax, resin, or a wax/resin coating on one side. When a thermal transfer label or tag passes through a thermal transfer barcode printer, heat from the print head melts the wax or resin. This process transfers ink to the label. The result is crisp, high-definition images of the highest quality—which is why thermal transfer printing is perfect for applications that require durable, long-lasting labels.
Learn more about thermal transfer printing.
What is direct thermal printing?
Direct thermal printing also uses a print head to generate images. But instead of using ribbons to transfer ink, it creates an image directly on the label. This print technology uses chemically treated, heat-sensitive media that turns black when it passes under a heated print head. Therefore, no ribbons, ink, or toner is needed—which is one of the reasons for the widespread adoption of direct thermal printing. The ongoing maintenance costs are lower than those for thermal transfer printing.
Learn more about direct thermal printing.
Thermal transfer vs direct thermal printing
Both print technologies have advantages and limitations. To determine which is right for you, compare both in the table below.
 

Thermal Transfer

Direct Thermal

Best for

Short-term applications or one-time use

Environment

Rugged, industrial

Indoors and out

Extreme temperatures

No exposure to heat, long periods of direct sunlight, and abrasion

Indoor only

Controlled temperatures

Ideal applications

Product identification

Asset tagging

Inventory identification

Certification labels such as UL/CSA

Laboratory specimens

Cold storage and freezers

Outdoor applications

Circuit board tracking

Permanent identification

Sample and file tracking

Shipping labels

Compliance labels

Receipts

Pick tickets

Patient wristbands

Coupons

Event tickets

Citations

Parking tickets

Name tags

Visitor passes

How it works

Uses ribbons, ink, and print heads

Thin ribbons with wax, resin, or wax/resin coatings on one side pass under a heated print head. The heat melts the coating and transfers ink onto the label.

Does not use ribbons or ink, but does use print heads

Chemically treated, heat-sensitive paper passes under the heated print head. The heat burns images directly onto the label.

Benefits

Superior print quality

Accurate, high-definition text, graphics, and barcodes

Archival-quality labels

Consistent, reliable images on every label

Nearly unlimited variety of paper, polyester, and polypropylene media available

Maximum readability, scannability

Tough, long-lasting labels

Excellent edge definition

Resistant to heat and moisture

Images won't rub off

Both 1D and 2D barcodes

Low operational costs

Virtually no waste due to batch or single-label print options

Print heads last longer

Printers typically more durable

Minimal long-term maintenance expenses

Simple to use

Prints directly onto the label material

No ribbons, toner, or ink required

Used in most mobile printers

Good readability, scannability

Sharp, quality images

Easy to scan

Provides ample lifespan for many common barcode printing applications

Affordable

Typically costs less to operate than thermal transfer printing

Lower long-term maintenance costs because of minimal replacement supplies

Virtually no waste due to batch or single-label print options

Recyclable labeling materials available

Limitations

Higher supply expenses

Have to routinely replace ribbons

Replacement frequency can increase when primarily printing single labels

Increased installation costs

Initial investment may be moderate to high

Poor candidate for recycling options

Potential printer problems

Must carefully match label material and ribbon; otherwise, the print head may melt the ribbon onto the label

Must choose the right specialty adhesives

Sensitive to environment

Can fade over time

Overexposure to heat or light darkens materials, making the barcode unreadable

Doesn't withstand abrasion

Usability issues

Less rugged than thermal transfer labels

Best for short-term applications

Not recommended for lifetime identification applications

Readability varies greatly depending on usage conditions