System ID Barcode Solutions
Zebra P4T Mobile Printer Creates Rugged, Long-Lasting Labels on the Fly
With the
Zebra P4T mobile printer
, thermal transfer printing never looked so stylish. [caption id="attachment_5186" align="alignright" width="150"]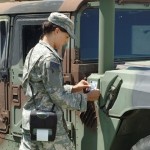 Department of Defense operations use the Zebra P4T mobile printer to streamline deployment of troops and equipment with asset tagging for everything from vehicles to computers.[/caption] That's because users can wear the P4T like a small satchel, or simply carry it wherever the organization's printing needs take them. Plus, the Zebra P4T
mobile printer
is the first on the market with the capability for RFID printing and encoding.
Extra-durable labeling for harsh, outdoor applications
The Zebra P4T mobile printer allows for printing of documents and barcode labels from 2 inches to 4 inches wide. Users can choose from thermal transfer image durability, or switch to direct thermal mode. The long-life printed materials can withstand harsh environments – even outdoors – and last up to 10 years. The printer can be used across a wide range of industries, each with its own unique set of typical applications:
Manufacturing and warehousing businesses use the printer for inventory labeling, application of labels as they are picked, work-in-process labeling, and asset management.
Transportation and logistics concerns rely on the printer for producing of shipping labels at the shipping dock, cross-docking, and container labeling.
Firms with mobile workforces use the Zebra P4T mobile printer for label attachment at remote locations, receipts that need to be durable and long-lasting, utility labeling outside the plant, and a wide range of asset tagging for everything from HVAC systems to indoor equipment and vehicle fleets.
State and local law enforcement agencies rely on the Zebra P4T for on-the-spot printing of citations and evidence collection.
Department of Defense operations use the printer to streamline deployment of troops and equipment with asset tagging for everything from vehicles to computers.
Rugged enough for harsh – and even outdoor – environments, the Zebra P4T mobile printer offers:
IP14 water-resistance rating
IP54 dust- and water-resistance
Tolerance for multiple drops to concrete from up to 5 feet
It offers a variety of chargers and adapters for use in almost any environment – even mobile mounts for vehicles and forklifts.
RFID labeling on the go
For businesses that rely upon RFID technology, the Zebra P4T can be easily upgraded for RFID labeling. It can print and encode 4-inch smart labels, which save time and ensure the correct label is placed on the right pallet. Applications include:
Compliance mandates for large retailers or the Department of Defense (DoD)
Printing of new pallet or carton RFID labels when pallets are broken down and repackaged
Picking and applying RFID labels in the warehouse or at the shipping dock
Improving on-site asset and inventory tracking
Driving better materials management, track-and-trace systems, and inventory control
Implementing item-level RFID tags at the retail level for re-pricing and restocking